The first full day of Overlook is done, and it was a really great experience. There's too much for one person to see everything, but what I was able to check out was well worth it. I was also lucky enough to be here with a team that could fill me in on what I missed.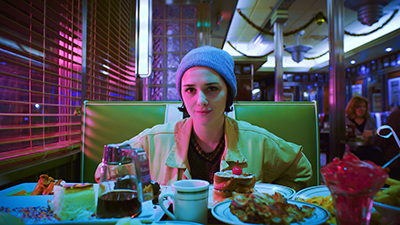 My day started with Like Me, an upcoming indie from Glass Eye Pix. It's a bit of a crime drama with some social media elements thrown in, all filtered through an incredibly stylized and saturated lens. It's a unique experience that will likely not be for everyone, but I had a really great time with it.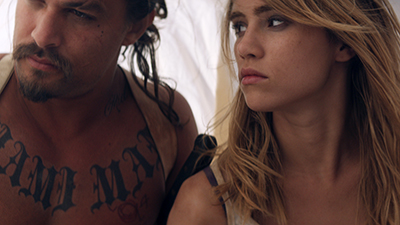 Almost as soon as I got out of the Like Me screening I was right back in line for The Bad Batch. This is Ana Lily Amirpour's latest film starring Suki Waterhouse and Jason Momoa, with Keanu Reeves and Jim Carrey in supporting roles. This Texas wasteland cannibal story was a big hit with me (and several of my team members). It's got some great practical effects, a killer soundtrack, and a whole lot of confidence.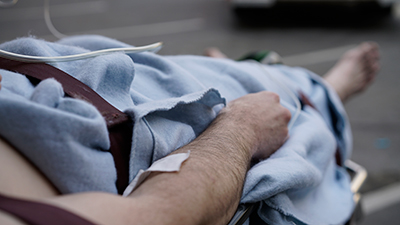 After that I made my way to the Mule VR experience (look for a full review on the site in the near future from a writer who opted to be buried instead of cremated). It was a six minute VR experience where I sat in a coffin and watched my virtual life end from overdose to cremation. It was my first time watching a story through virtual reality, and definitely has me a bit more interested in the format and its future.
The last thing I was able to see myself was the trivia party. Ryan Turek (Blumhouse Productions) and Sam Zimmerman (Shudder) put together a set of 30 seriously tough questions. The place was packed, the energy was high, and the prizes were plentiful. It was a really nice point to go out on.
All in all, it was a strong day with more than enough to keep me busy. I didn't get even sort of close to the weekend-long immersive game, missed a handful screeners and a really excellent short about a Red Lobster commercial, and feel like I've only dipped my toes in what this weekend has to offer. I'm very much looking forward to what Saturday and Sunday have to offer.