RLJ Entertainment to unleash 'Mayhem' on Shudder early 2018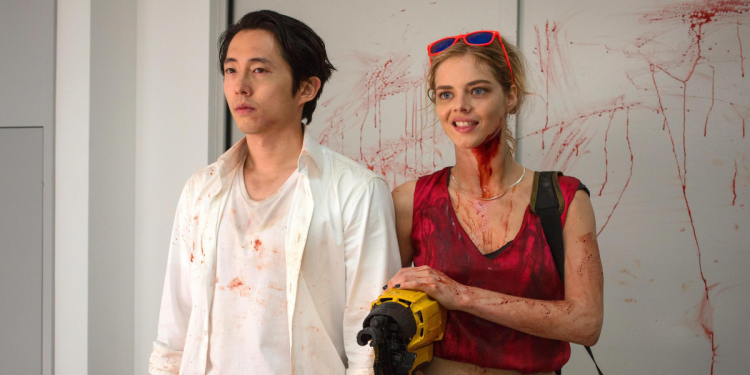 RLJ Entertainment is partnering with Frightday's favorite horror streaming service Shudder on the North American release of Joe Lynch's action/thriller Mayhem, produced by Avva Pictures' Mehrdad Elie & Parisa Caviani along with Circle of Confusion's Lawrence Mattis & Matt Smith.
The film first premiered at the 2017 SXSW Film Festival to positive reviews.  Directed by Joe Lynch (Everly) and written by Matias Caruso, the film stars Steven Yeun (The Walking Dead), Samara Weaving (Monster Trucks), Steven Brand (The Scorpion King) and Dallas Roberts (Dallas Buyers Club).
In 
Mayhem
, an airborne virus infects the corporate tower of a major law firm on the day attorney Derek Saunders (Yeun) is wrongfully fired. The infection is capable of making people act out on their "most erratic" impulses and viral rage takes over.  Trapped in the quarantined building, Saunders is forced to fearlessly fight for his job, his redemption and his life.
"Joe Lynch's vision is captivating," said Ward.  "He has the ability to take stories and elevate them with his unique insight and direction.
"Mayhem is bold, fun, irreverent and incredibly fast on its feet," said Aurelie de Troyer.  "Steve Yeun and Samara Weaving deliver stunning performances.  It's a perfect fit for Shudder."
"Mayhem is a very personal film for us that has affected and engaged festival audiences looking for some insane, cathartic fun in these trying times," said director Joe Lynch. "With RLJ Entertainment and Shudder working together to bring Mayhem to the masses, I am confident that this crazy flick will find its audience in the best way possible.  It will be for viewers who want the choice of a big, bold, loud theatrical experience but it will also have the convenience and careful curation of Shudder's fantastic service.  As a fan and customer of Shudder, I am proud to know that we are in great company. Mayhem is coming for you all soon enough!"
I was lucky enough to catch this film at this year's Overlook Film Festival, and, as it was one of my personal favorites, I truly cannot wait for its official debut.
Mayhem
is set to release in select theaters and On Demand in late 2017, with the Shudder streaming premiere slated for early 2018. To start your free 7-day trial, visit 
www.shudder.com
.